ABOUT DIAMOND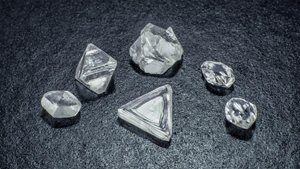 Diamonds are among natures most precious and beautiful creations.
Diamond forms under high temperature and pressure conditions that exist only about 100 miles beneath the earths surface. Diamonds carbon atoms are bonded in essentially the same way in all directions. Another mineral, graphite, also contains only carbon, but its formation process and crystal structure are very different. Graphite is so soft that you can write with it, while diamond is so hard that you can only scratch it with another diamond.
BIRTHSTONES & ANNIVERSARIES
On almost all modern birthstone lists, diamond is recognized today as the birthstone for April. Diamond is also the gem that marks the 60th and 75th wedding anniversaries.
Learn More