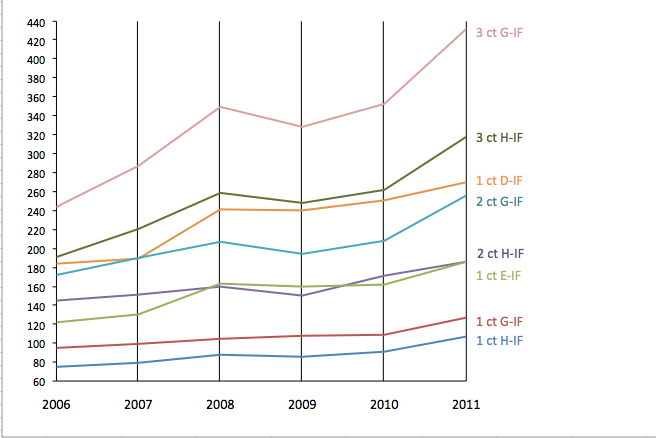 As demand rose and supply fell on the diamond market, recent years have seen a sharp increase in diamond prices. A host of diamond mines are facing exhaustion over the short or long term; with this in mind, De Beers - the world's largest diamond company - has predicted that from mid-2012 the supply of rough diamonds will no longer meet demand. Over the long term, the status of diamonds will rise to make them even more luxurious than they are already.
The rise in diamond prices in recent years is shown in the diagram tracing the development in value (in $100 increments) of classic investment diamonds based on the New York Rapaport List from 2006 to May 2011.
It can be assumed that in future not only extremely large stones, but also smaller and less rare diamonds will increase in value. High demand for jewellery diamonds in particular (smaller stones of medium quality) will no longer be met and diamond prices will rise further.
TRENDS IN DIAMOND PRICES IN 2011 Trends in diamond prices in 2011 were marked by some extremely rapid price increases. Compared to diamond prices at the start of the year, prices in June had risen by between 21% and 36% depending on the size and quality of the stones. In early December diamond price trends had moderated somewhat, but were still between 12% and 24.5% higher than at the start of the year.
FORECAST FOR DIAMOND PRICE TRENDS IN 2012 Experts predict a further good year in 2012 for the 'world's hardest currency'. Their positive mood is based on two key indicators of developments on the diamond market and diamond prices. On the one hand, Christmas business in the USA is booming; demand from the USA accounts for over 40% of the global jewellery market and is correspondingly important for the diamond market. On the other, experts have noted that the wedding season in India (November/December), marking an occasion where jewellery gifts are plentiful and popular, has shown a positive trend.
Long-term market forecasts assume that countries such as China and India will have equalled the level of demand of the USA in around five years. At present China and India together account for over 25% of the global jewellery market. As a comparison, Europe accounts for 12% and is thus of minor importance in the development of the diamond market and diamond prices.
Demand for diamonds therefore most definitely exists and is increasing. With respect to supply, there is no reason to assume that the diamond market could experience a glut. Quite the opposite, in fact; some mines are facing exhaustion over the short or long term, while experts report that the opening of new productive mines is unlikely, particularly given that costs of opening new mines are enormous and development times for new mines are extremely long.
(Source: Börsen-Zeitung issue 239, 10 December 2011)