ABOUT RUBY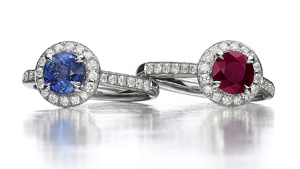 Ruby is the most valuable variety of the corundum mineral species, which also includes sapphire.
Rubies can command the highest per-carat price of any colored stone. This makes ruby one of the most important gems in the colored stone market. In its purest form, the mineral corundum is colorless. Trace elements that become part of the minerals crystal structure cause variations in its color. Chromium is the trace element that causes a ruby's red color.
RUBY JEWELLERY
At 9.0 on the Mohs scale, ruby is a gemstone that is almost as hard as diamonds (10). This means they are a wonderful choice for jewelry that will last through the generations, resistant to wear and tear.
The most popular metal for ruby jewelry is yellow gold, to emphasize its warm red color. However, the ruby is a very versatile gem and can be set in a variety of precious metals, including sterling silver, white gold and platinum. Rubies are used in classic, vintage and more contemporary jewelry designs.