ABOUT AMETHYST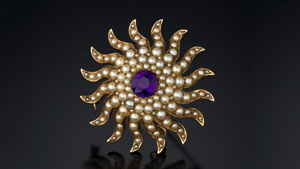 The essence of the color purple, amethyst is beautiful enough for crown jewels yet affordable enough for class rings.
Amethyst was as expensive as ruby and emerald until the 19th Century, when Brazil's large deposits were discovered. It was believed to prevent intoxication- amethystos means not drunk in ancient Greek. Today, as the most valued quartz variety, amethyst is in demand for designer pieces and mass-market jewellery alike, and its purple to pastel hues retain wide consumer appeal.
AMETHYST JEWELLERY
Amethyst is one of the most popular gemstones used in jewellery, cut into a wide variety of shapes and sizes. From cabochons to emerald-cuts, ovals to heart-shaped stones, its eye-catching purple hue is lovingly worn all over the world.
The gemstone's versatility makes it a stunning choice for setting in white, yellow and rose-colored metals. Different cuts are used to create both classic and modern jewellery styles, to suit all tastes and budgets.