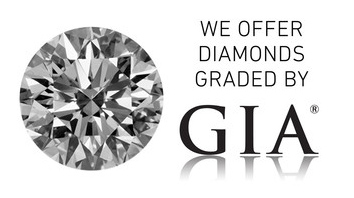 DIAMOND CERTIFICATION
Before purchasing a diamond, you should expect to review a copy of its certificate as proof that it has undergone an unbiased, professional examination.
What is a diamond certificate?
A diamond certificate, also called a diamond grading report, diamond dossier®, or diamond quality document, is a report created by a team of gemmologists. The diamond is evaluated, measured, and scrutinized using trained eyes, a jewelers loupe, a microscope, and other industry tools. A completed certificate includes an analysis of the diamonds dimensions, clarity, colour, polish, symmetry, and other characteristics. Many round diamonds will also include a cut grade on the report.
Fonder Diamonds Are Certified
Every loose diamond we sell has been analyzed and graded by either the Gemological Institute of America (GIA) or the American Gem Society Laboratories (AGSL). These two laboratories are among the most respected laboratories in the diamond industry, and are known for their consistency and unbiased diamond grading systems. Diamonds that are accompanied by these grading reports are the most highly valued in the industry.
How to determine the authenticity of a GIA diamond
GIA certified diamonds will have a stamp number laser inscribed upon the girdle of the diamond - you can only see it using a gemological x35 microscope or using a 10x loop hardly, depending on the girdle type and diamond size. This will match the Registry number on the Diamond Grading Report Certificate.
A Certified diamond will have a clarity plot, an approximate map of the number, size, type, and position of its grade-setting inclusions as viewed under a microscope. No two diamonds are the same; a jeweler or gemologist will be able to identify a diamond from its inclusions and proportions.