ABOUT GARNET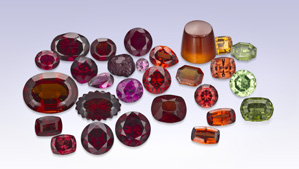 Garnets are a set of closely related minerals forming a group, with gemstones in almost every color.
Red garnets have a long history, but modern gem buyers can pick from a rich palette of garnet colors: greens, oranges, pinkish oranges, deeply saturated purplish reds, and even some blues. Red garnet is one of the most common and widespread of gems. But not all garnets are as abundant as the red ones. A green garnet, tsavorite, is rarer and needs rarer rock chemistries and conditions to form.
GARNET JEWLERY
Garnets are most often set in yellow and rose gold particularly the more popular red stones. The warmth in these metals emphasizes the fiery brilliance of red garnet. Green garnet stones are typically set in yellow gold, similar to emeralds. Colorless garnets can be used a more affordable alternative to diamonds and white sapphires.