ABOUT CITRINE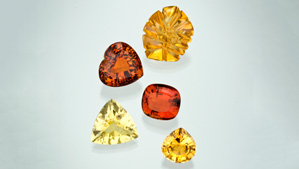 Citrine is the transparent, pale yellow to brownish orange variety of quartz.
Citrine is rare in nature. In the days before modern gemology, its tawny color caused it to be confused with topaz. Today, its attractive color, plus the durability and affordability it shares with most other quartzes, makes it the top-selling yellow-to-orange gem. In the contemporary market, citrines' most popular shade is an earthy, deep, brownish or reddish orange.
CITRINE JEWELLERY
Citrine is used to create bright, eye-catching gemstone jewellery that possesses a vivid brilliance. Yellow and rose gold settings complement the warm, comforting tones of the gems, while white metals - such as platinum and sterling silver - provide a striking contrast.
A durable gem that is ideal for everyday wear, citrine jewellery makes a wonderful gift for a loved one. Due to its vivid color, we recommend pairing citrine with complementary colors, such as blue, red and green.