ABOUT AQUAMARINE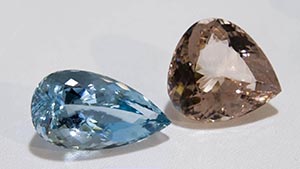 Named after seawater, aquamarines fresh watery hue is a cool plunge into a refreshing pool.
Aquamarines name comes from the Latin for seawater and it was said to calm waves and keep sailors safe at sea. Marchs birthstone was also thought to enhance the happiness of marriages. The best gems combine high clarity with limpid transparency and blue to slightly greenish blue hues. Like many beryls, aquamarine forms large crystals suitable for sizable fashioned gems and carvings.
AQUAMARINE JEWLERY
Aquamarine to be worn in jewelry is most often set in white metals, such as sterling silver and white gold. The cool tones of these precious metals emphasize the distinctive blue color of the gem, as well as highlighting its high clarity.
Between 7.5 and 8 on the Mohs hardness scale, aquamarine is harder than many other gemstones but less durable than diamonds, sapphires and rubies. Aquamarine is an excellent choice for jewelry that will last through the years, provided they are taken care of.